If your video includes a survey created by SundaySky Professional Services, the Survey Analysis section of the dashboard provides you with information and insights regarding its results.
If you used the landing page builder to include an NPS survey in your video, see Inside the Dashboard: Survey Analysis (NPS).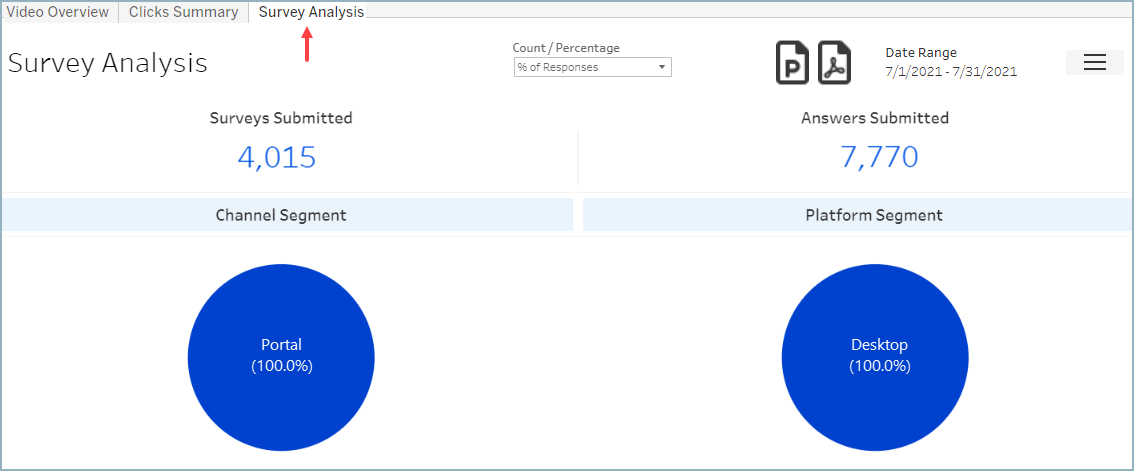 ---
Filtering the Dashboard by Date
By default, the dashboard displays data for the past 30 days. If you would like to see data from a different date range, adjust the date settings as described below.
Note that the date range selected will apply to all the widgets in your dashboard.
1.

Click the 3-line menu in the upper-right corner to open the Date Range settings.




2.

Set the date range using either of the following options (Predefined or Custom):

Click

Predefined

and then select a date range from the drop-down list.

Click

Custom

and then select start and end dates using the date pickers.

3.

Click the X to close the window.


---
Surveys/Answers Submitted
This widget displays the following information:
1.

The number of surveys that were submitted.

2.

The number of answers that were submitted.

In the example below, a survey with two questions was included in the video.
4,015 surveys, that included a total of 7,770 answers, were submitted.
Based on this information, we know that not all the viewers answered both questions.

---
Surveys

Submitted By Segment

The widgets in this section provide the following information:
| | |
| --- | --- |
| 1. | In which channel was the survey taken? |
| 2. | On which device did the viewer answer the survey? |

You can switch between absolute numbers and percentage by using the drop-down menu at the top of the page: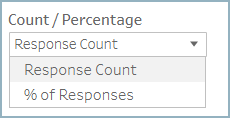 ---
Answer Distribution
The widgets in this section display the questions that were included in the survey and the answer distribution for each question. Note that widgets are only generated for closed-ended questions with predefined responses (text or numbers).
If your survey includes open-ended questions, you can create a report that includes the responses to the questions. To learn how, see Creating a New Report (Owned Media) and Descriptions of Report Columns (Owned Media)—Surveys.

In the example below:
Two questions were included in the survey.
Viewers were asked to rate two statements on a scale of 1 to 10.

You can switch between absolute numbers and percentage by using the drop-down menu at the top of the page: