In addition to the fonts included in the SundaySky collection, you can upload more fonts that you have created or purchased. The fonts you upload are installed only in your account and can be used by all users with access to the account.
Once uploaded, you can use these fonts for the text styles in your brand configuration.
---
Uploading a Font
1.

Log in to your SundaySky account.

2.

In Your Videos, select any video, click the three-dot menu, and then select Edit Video.

3.

Select the Fonts tab in the sidebar.

4.

Click Upload Font.

5.

In your local or cloud storage, locate and select the font file (one or more) that you want to upload.
▶ Supported font formats are TrueType fonts (.ttf files) and OpenType fonts (.otf files).

6.

Click Open.
While the fonts are uploading, you can see the progress at the bottom right of the page. After the font upload completes successfully, a check mark appears by its file name.
▶ If a font file cannot be uploaded, the reason will be indicated in this pane.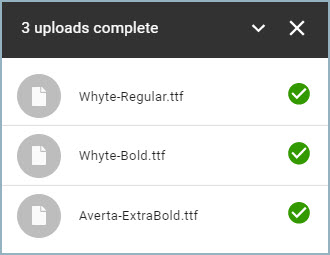 The fonts are added to the Fonts tab.
▶ Note that each font name (taken from the font metadata) is displayed using its own typeface.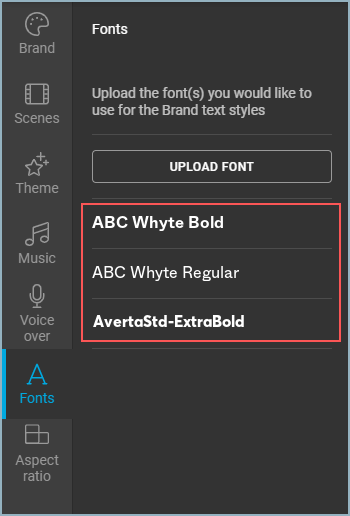 ---
Using an Uploaded Font
You'll see the fonts you uploaded when you select fonts for your text styles. The text styles are a component of a brand configuration.
The fonts you upload are located in the My fonts section.
The fonts in the collection are located in the Font Collection section.