With SundaySky's chaptering capability, you can add interactive chapters on top of your video, enabling viewers to navigate quickly to the content that interests them. Instead of scrubbing through the video, viewers know exactly where topics begin and end. This is especially useful for long form video content.
The chapter menu improves the viewer experience by displaying easily accessible topics that inform viewers about what content awaits them. They can easily navigate between topics, rewatch, and skip.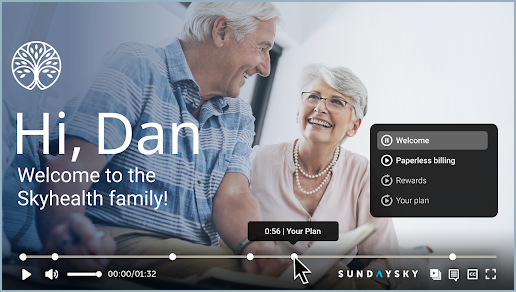 Note:
If you are using SundaySky's landing page builder to create a landing page on which to play the video, you can enable the chaptering on your own.
If you have a custom landing page, you'll need to contact your SundaySky Project Manager to enable chaptering.
---
Following are the key chaptering features to familiarize yourself with:
1.

The chapter titles are generated automatically based on the names that you have given the scenes. For this reason, it is important to give names that represent the content and are meaningful for your audience. Note that titles in the chapter menu are limited to 50 characters.

2.

The order of the chapters in the menu is based on the order of the scenes in the scene line-up.

3.

If you have set a scene to be skipped, the corresponding chapter will not appear in the menu.

4.

The chapter menu and player controls display as long as the viewer interacts with the player. For desktop users, this interaction takes the form of a mouseover; in a mobile device, it is a simple tap. When there is no interaction, the menu and controls disappear.

5.

The chapter menu can be toggled on or off by clicking the chapters icon on the player control bar.

 



6.

Chapter markers also appear on the video progress bar. When hovering over a marker, the chapter title and the timestamp are displayed. This makes it very easy for viewers to find and quickly jump to the content that interests them.
Note that this functionality is supported only on desktops. 

 

7.

Hovering over a chapter title in the menu also highlights the corresponding chapter marker on the video progress bar.

 

8.

In a scene that includes one or more buttons, the chapter menu and player controls automatically disappear so that the viewer can engage with the buttons.

9.

The button by each chapter title indicates the viewing state:

 

 

 

10.

The chapter menu is fully responsive to display perfectly across all devices: desktop, mobile, and tablet.
On a mobile device, the chapter titles (touch targets) are large enough to enable tapping comfortably and accurately with one finger.