Before Starting
Note that you need to have Editor permissions to select a theme in your account.
What is a Theme?
A theme dictates the overall look and feel of the video experience. It includes motion graphic elements, transitions, placeholders for text and media, and other visual elements. Each theme, designed with an overall common visual style, can be configured so that its key components match your branding.
Themes designed specifically for your industry, in which all the components have been positioned perfectly, give you the following advantages:
| | |
| --- | --- |
| 1. | All users, even those without design skills, can create a high-quality, professional video experience. |
| 2. | You can create a high-quality video experience with maximum impact in minimum time. |
| 3. | As the theme you select is used for all the scenes in your program, the result is visual consistency. This consistency means, for example, that the same animation styles are used throughout all the scenes without any extra effort on your part. |
Below are examples of the two major themes that you can select between when creating your program. Note that although both themes include the same elements (text, image, video), the look and feel of the themes are distinctly different.
The Modern theme (left) is clean, simple, and modular. Built with a grid of simple color blocks, clean typography, smooth animation, and vivid transitions, this theme is ideal for showcasing visual assets—be they photography, video footage, or illustrations.


The theme's visual packaging affords a high degree of flexibility that enables your brand to stand out.

The Lite theme (right) is fluid, transparent, and cinematic. Built using elegant compositions, cinematic overlays, and minimal graphic elements, the theme was constructed to showcase the visuals of your brand.


Combining the theme's subtle design with your existing visual assets will translate into a rich video experience for your audience.
The SundaySky themes, providing you with an efficient way to streamline the design of your video experience, are highly configurable. To make the theme unique to your brand, you can define the colors and text styles that match your company branding. See Introduction to Brand Configuration for more information.
When you're ready to create your scenes, you'll continue to enjoy flexibility. On top of the brand configuration, you'll also be able to customize the content—as well as the layout—to make it your own. The content includes:
video footage
images
icons
on-screen text
voice-over script
An example of this customization can be seen in the two scenes below. While both scenes use the same theme, each is customized with content relevant to its program and audience.
Selecting a Theme
| | |
| --- | --- |
| 1. | Select your program from the program menu (left side of the page) and then click Edit Program. |

| | |
| --- | --- |
| 2. | With Brand selected in the toolbar, click the pencil icon by My brand configuration. |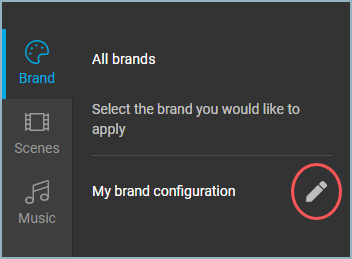 | | |
| --- | --- |
| 3. | Open the Themes section. |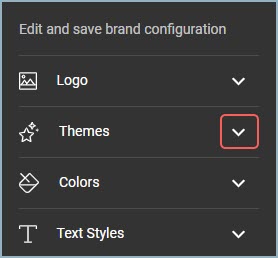 | | |
| --- | --- |
| 4. | Select the theme that you would like to use and then click Save. |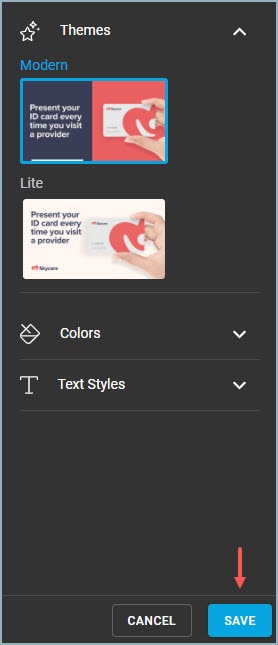 The theme you select will be used for all the scenes in your program.
Warning:
As a brand configuration may be used in several programs, changing the theme after your initial selection will affect both the program you are currently working on as well as all other programs using the same brand configuration. We therefore recommend proceeding with caution.