Every video you create includes background music. Selecting the right background music is a great way to set the tone of the video and make your message memorable.
You can select a track from the music collection (which includes a variety of tracks to suit different styles and tastes) or upload a custom track of your own.
Notes:

1.

The music track is added to the entire video and not to individual scenes.

2.

If your video is longer than the track you added, the music will loop and fade out towards the end of the video.

3.

For custom tracks, only MP3 format is supported, with a maximum file size of 25 MB.

4.

After you add the music track, you can adjust its volume. See Adjusting Sound Volumes to learn more.
---
Selecting a Track from the Music Collection
| | |
| --- | --- |
| 1. | Access the relevant video. |
| 2. | Select Music in the toolbar. |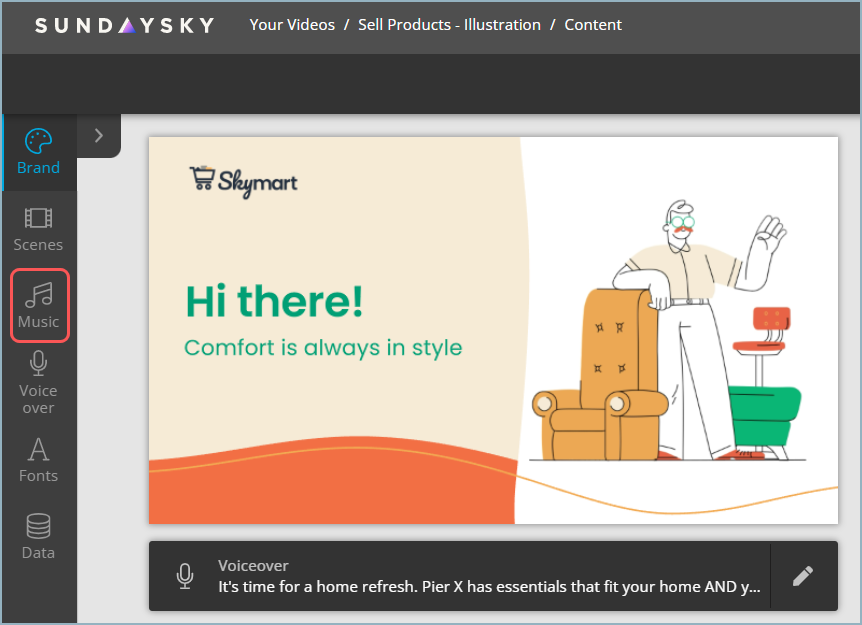 The music collection is displayed and the first track is selected, by default.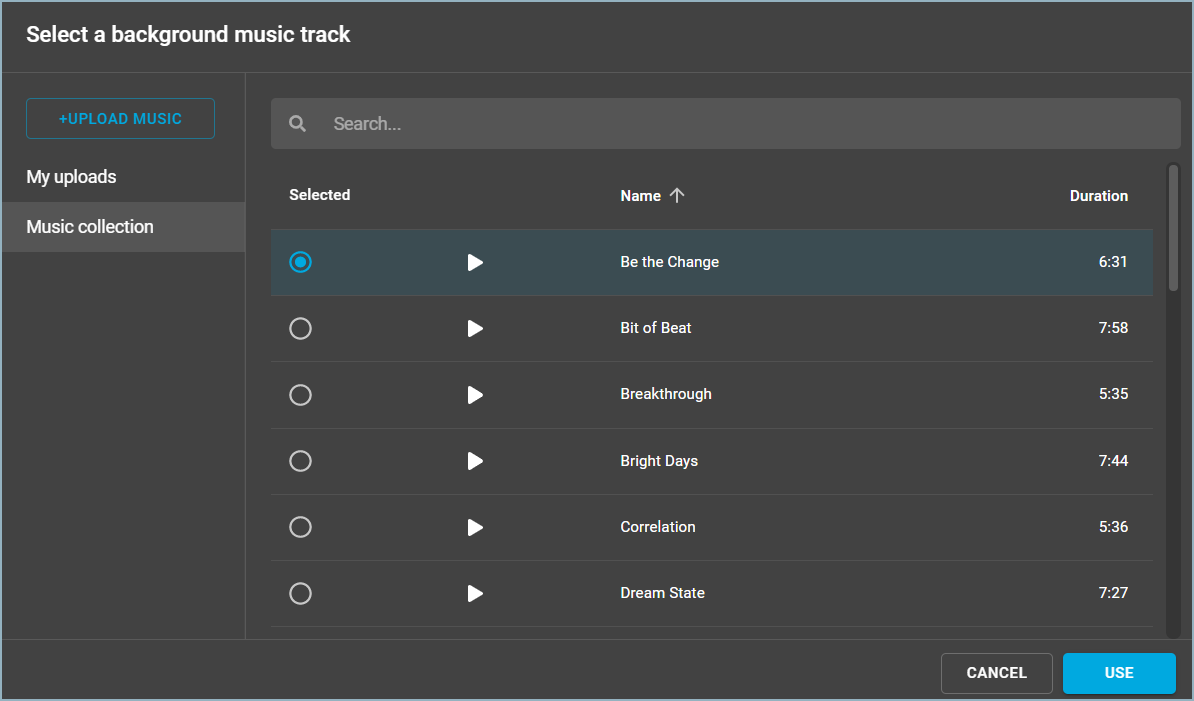 3.

Browse through the collection and preview tracks by clicking the play button by each of them.
▶ Note the duration of the track as it relates to the length of your entire video. As mentioned above, a track shorter than your video will be looped until it fades out towards the end of the video.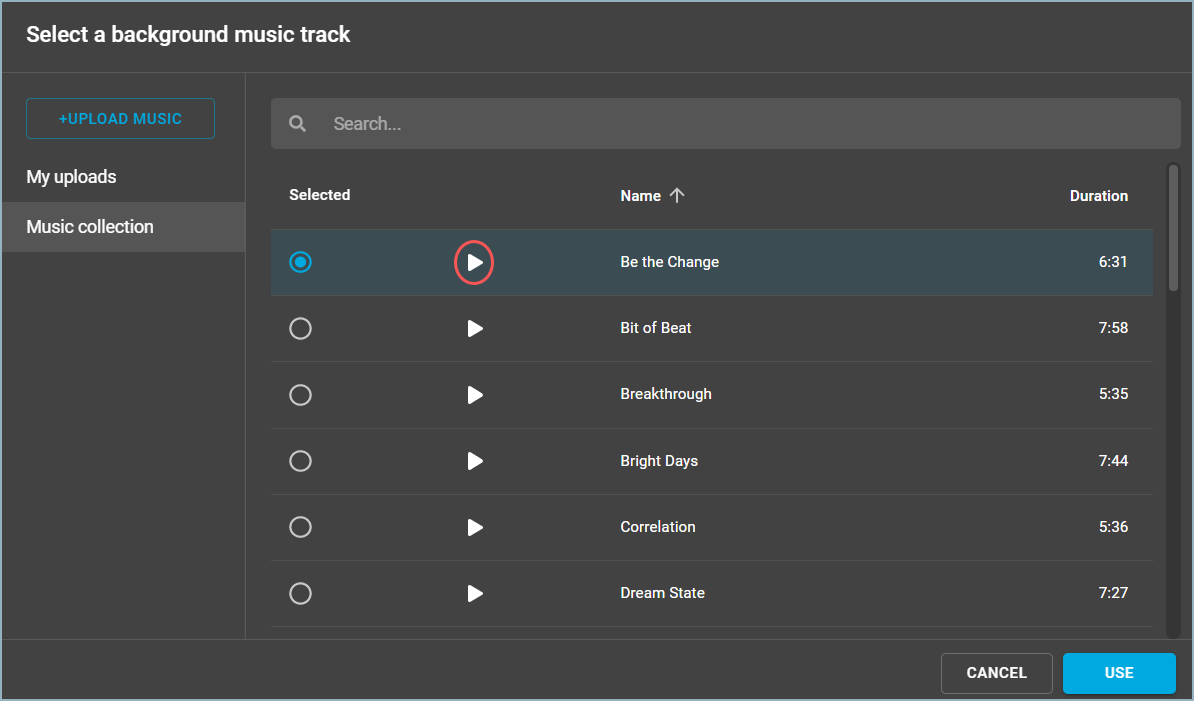 | | |
| --- | --- |
| 4. | When you decide on the track that you want, click the radio button in the track row and then click Use at the bottom of the page. |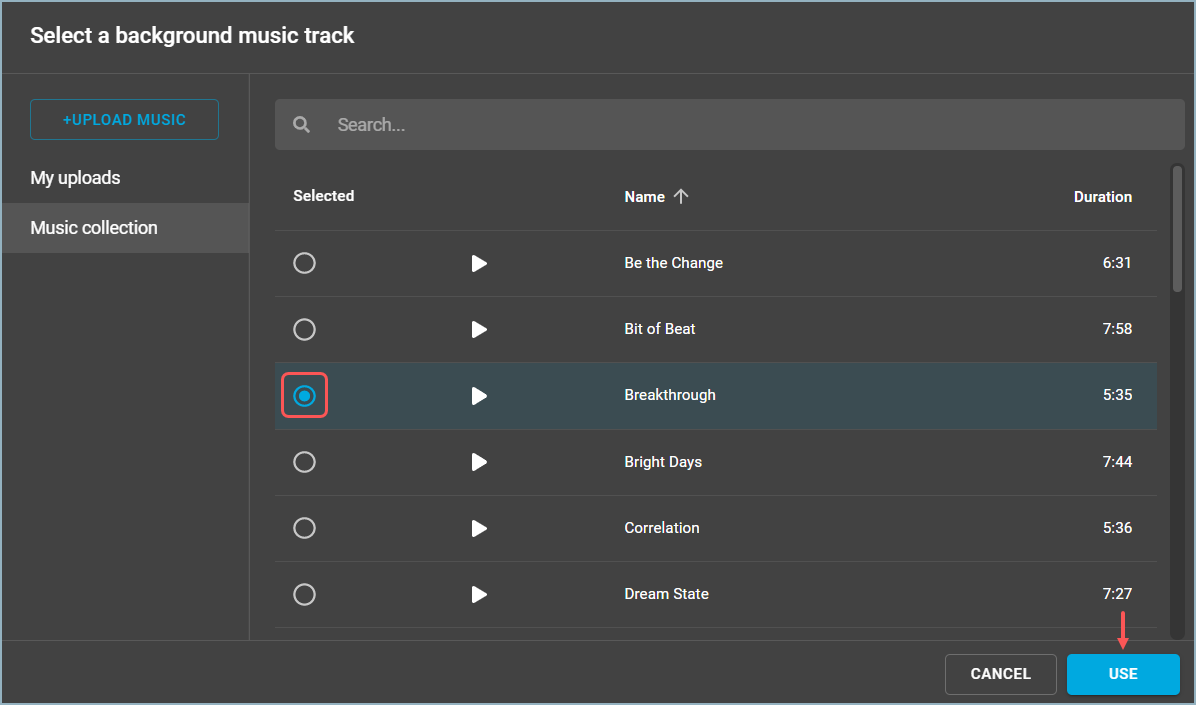 The track is added to the video.
---
Uploading a Custom Track
| | |
| --- | --- |
| 1. | Access the relevant video. |
| 2. | Select Music in the toolbar. |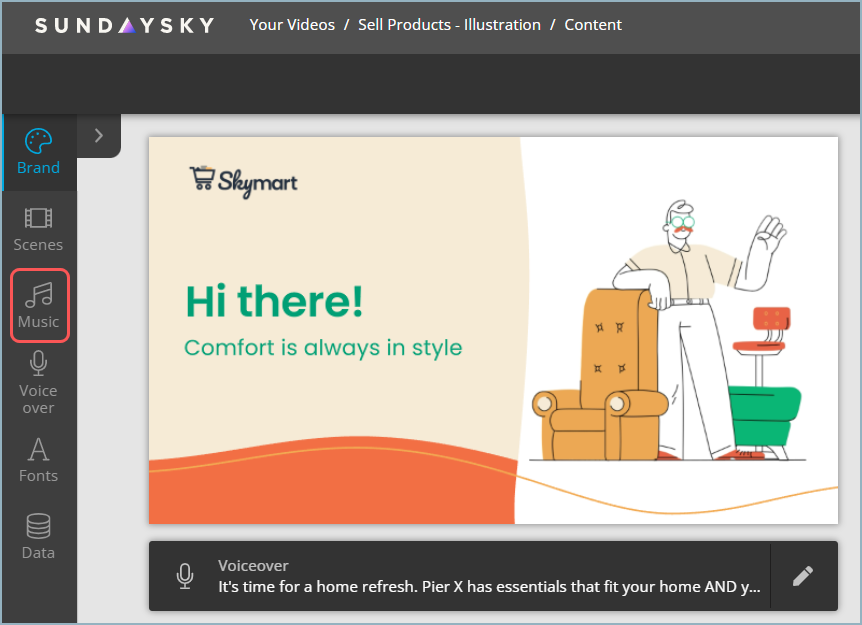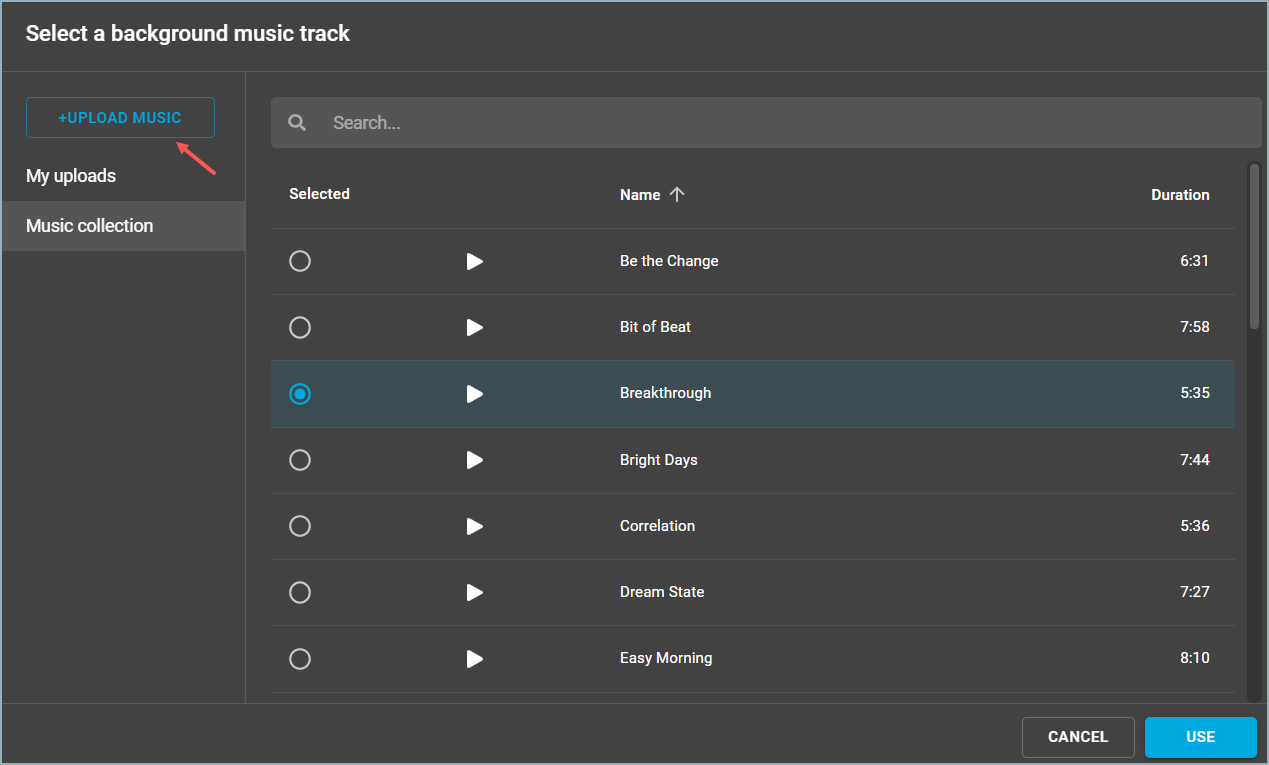 4.

Upload your MP3 file using either of the following options:
a. Drag and drop the file to the area bordered by the dotted lines.
b. Click Upload From Computer and then locate and upload the file from your local or cloud storage.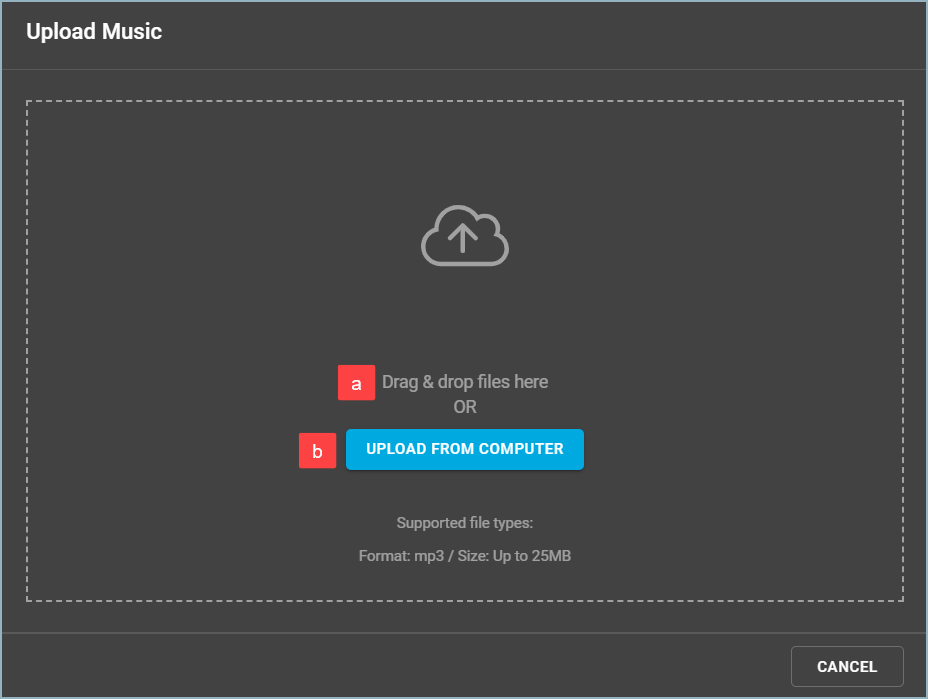 The uploaded music track is added to My uploads and automatically selected for the video. All the music tracks that you upload in the future will be saved in this section, ready for use in any of the videos in your account.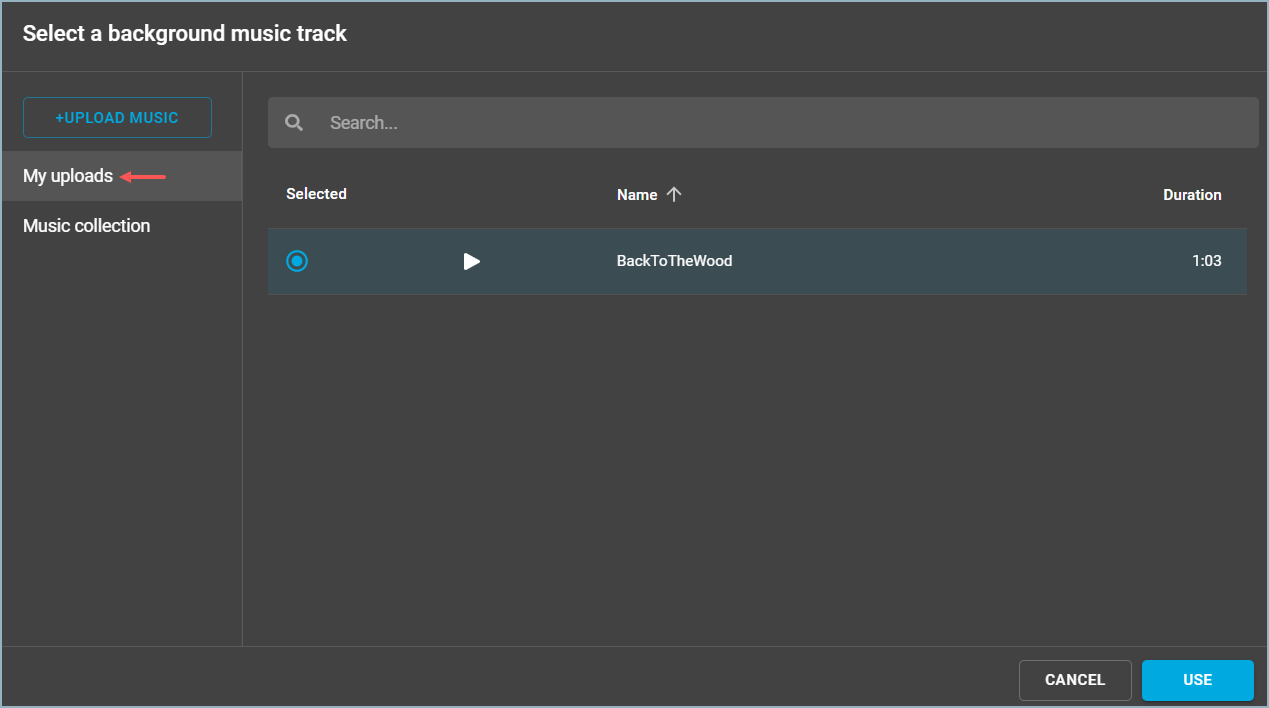 ---
Searching for a Track
Inside the entire Music Library (Music collection and My uploads), you can use the following functionality to easily find the desired track for your video:
| | |
| --- | --- |
| a. | Search for a track according to name. |
| b. | Sort the track names alphabetically, in ascending or descending order. |
| c. | Sort the track names according to duration, in ascending or descending order. |