1:1 Personalization is a method of dynamic messaging in which a data value belonging to the viewer (for example, first name or product viewed) is used for creating personalization.
In the example below, viewers are greeted by their first name in the opening of the video. Note that all other components of the scene are identical.

1:1 Personalization is generated according to data that is passed to SundaySky for each individual. See Video Personalization—How it Works for more information.
If you would like the same text to display for all viewers, see Adding Text to a Scene for guidelines on how to add static text.
---
| | |
| --- | --- |
| 1. | From the scene line-up, select the scene with the text that you want to work on. |

| | |
| --- | --- |
| 2. | Hover over the text to see the blue text placeholder and then click inside the placeholder. |

The current text is displayed in the Configuration pane.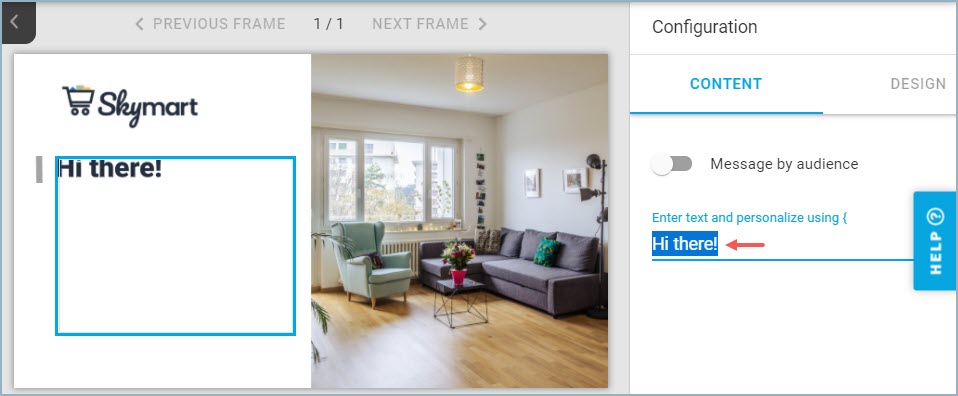 | | |
| --- | --- |
| 3. | Begin by defining the text that you want everyone to see and then click anywhere outside the text field to save the change. |

| | |
| --- | --- |
| 4. | In the text field, position your cursor where you want to insert the personalized data and then type a left curly bracket﹛. |
A drop-down list with all the available data elements is displayed.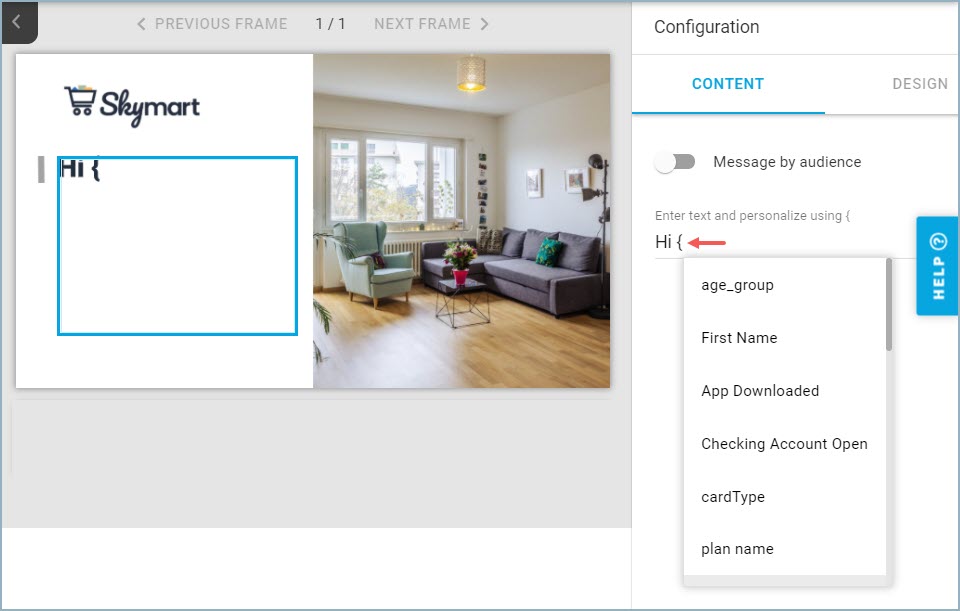 5.

Select the appropriate data element and then click anywhere outside the text field to save the selection. In the example below, viewers will see the word Hi followed by their first name.
▶ A capital T is added to the text placeholder to indicate that a data element has been added.
▶ Only one data element can be added to a text placeholder.
▶ The font size used for the text in the placeholder depends on the length of your text. The longer the text, the smaller the font size will be, to enable all the text to display in the placeholder. If all the text cannot be displayed, three dots will appear at the end, indicating that there is more to read.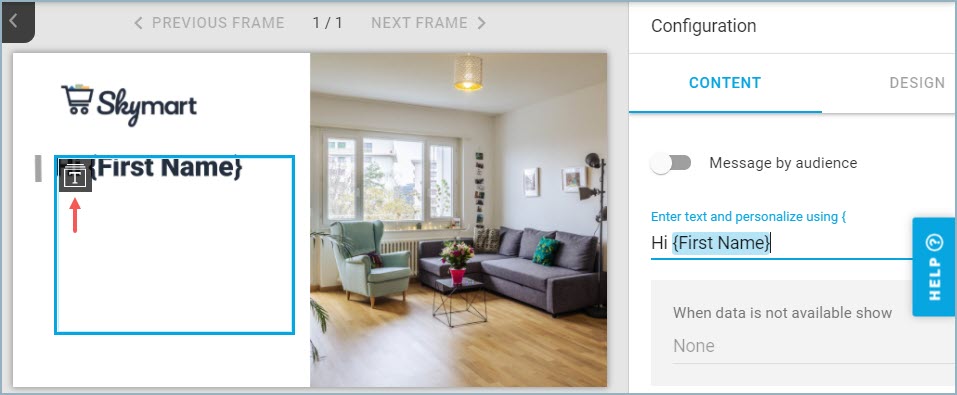 6.

Type the text that you want to display when data is not available. In the example below: if a person's first name is not included in the record, Welcome! will be displayed in the scene.
▶ This text is referred to as default text.