As you add a voice-over script to a scene—with personalization or without—you can preview the voice-over using a natural-sounding automated voice. The platform includes a variety of voices from which you can choose.
The automated voice you choose for previewing can also be the voice used for publishing the finished video. See Adding an Automated Voice to the Video to learn more.
The guidelines in this article apply to previewing your voice-over as you work on a scene. If you would like to preview the voice-over while watching the full video, see Previewing a Video.
---
Previewing a Voice-Over Using an Automated Voice
1.

Access the relevant video.

2.

Select Voiceover in the sidebar.

3.

Make sure the toggle is switched to Automated Voice.
▶ You will not be able to preview the audio if the switch is toggled to Use recorded voice.

4.

Choose the voice that you want to use for previewing. See Choosing the Automated Voice to learn how.

5.

Select the scene with the voice-over that you want to preview.

6.

Select the voice-over placeholder to display the script in the right panel.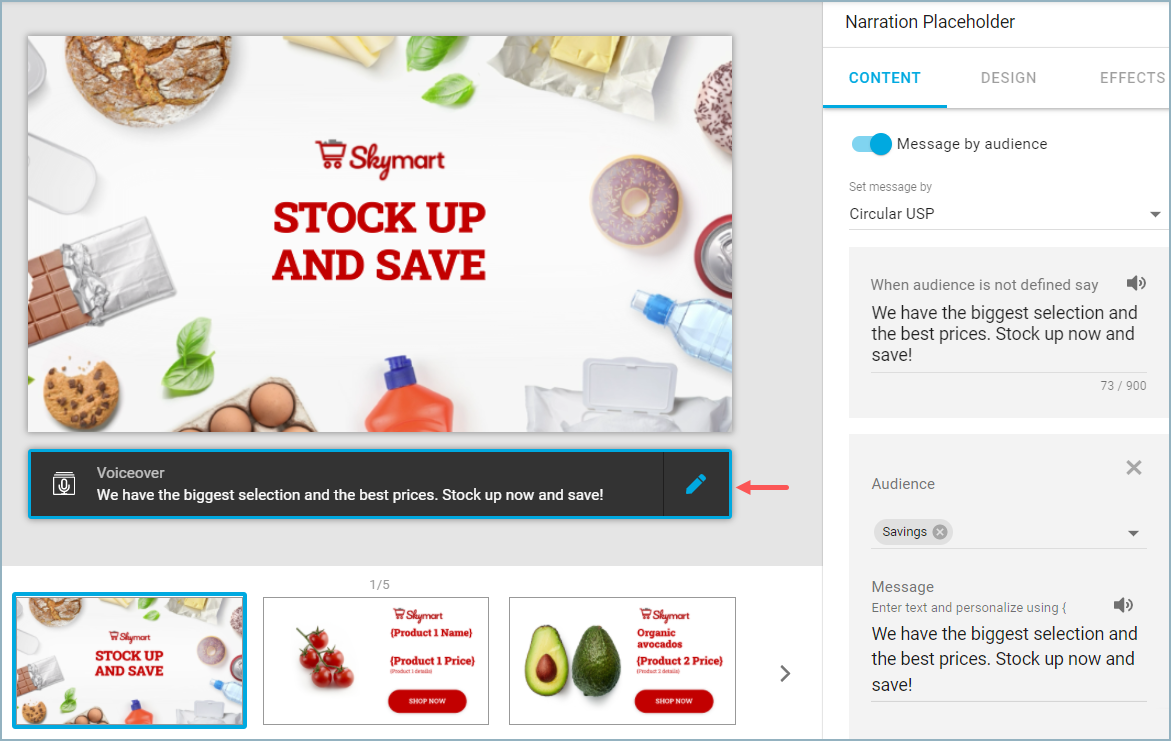 | | |
| --- | --- |
| 7. | In the right panel, click the sound icon to play the voice-over text that you want to hear. |
| | |
Notes:
1.
The sound icon is displayed only when the placeholder contains a voice-over script.
2.
If the voice-over script includes a data element, the name of the data element (for example: first name) is narrated and not the actual value.
---
Choosing an Automated Voice
1.

Select Voiceover in the sidebar.

2.

Browse through the collection of voices.
▶ If you are looking for a specific voice, type the name in the search bar at the top of the page.
▶ You can also sort the voices according to name, gender, or language by clicking the column headings.




3.

As you browse, you can click the play button by the voice name to listen to a short sample.


4.

When you decide on the voice that you want to use, select the name and then click Done at the bottom of the page.