After you add a voice-over script to a scene, you can preview the voice-over using AI text-to-speech narration with natural-sounding voices. The Editor includes a variety of virtual narrators, from which you can choose. The voice-over preview can give you a good idea of how your actual narration will sound, after it is recorded with a real human voice.
By default, a narrator is selected for the program according to its type.
For Owned Media programs, Sofia - Narrator is selected.
For Paid Media programs, Sofia - Promotional is selected.


If you have uploaded a voice-over narration (with a real human voice) to a sentence, that narration will be used for previewing. The AI text-to-speech narration is used only for sentences that do not yet have narrations with a real human voice.
To learn more on how to preview a program, see Previewing a Program.
---
| | |
| --- | --- |
| 1. | Access the program in the Editor. |
| 2. | Select Voiceover in the toolbar to display the narrators. |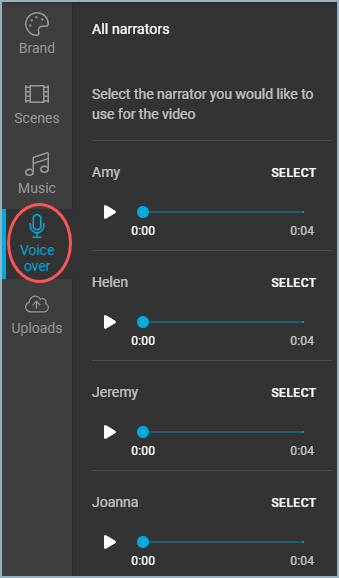 | | |
| --- | --- |
| 3. | As you browse the narrators, click the play button under their name to listen to a short sample of their voice. |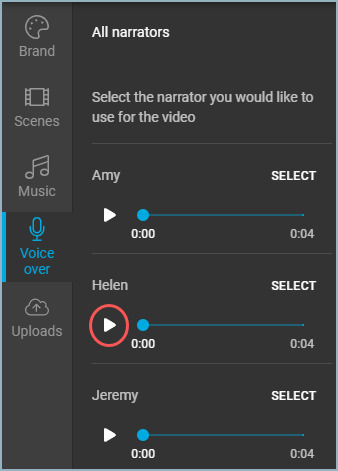 4.

When you decide on the narrator that you want to use, click Select to the right of their name. This is the narrator that will be used to preview the voice-over.
▶ You can select a different narrator at any time (as long as you have not uploaded a voice-over recording).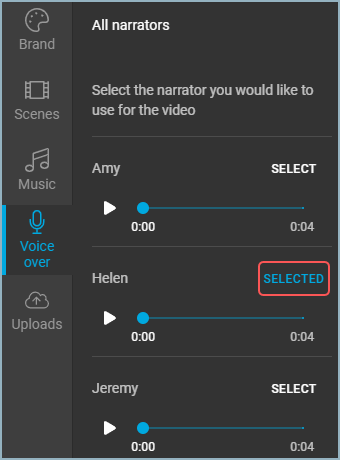 | | |
| --- | --- |
| 5. | Preview the scene or full video. |